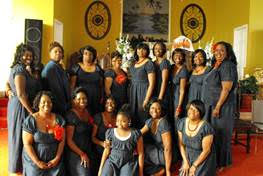 Lady Takenya Pinckney – Director & Lady Lawanda Anderson – Assistant Director
Patricia Pinckney Ministries and The ZACF Ladies Ministries consist of ladies excited about being involved in the work of the Lord! They are greeters, singers, altar workers, Bible Study teachers, Sunday school teachers, Multi media workers, and many more! We are thankful to have such an active group of ladies at ZACF!
Who we are ...Daughters of Zion is made up of women worldwide, who meet on the first Monday of each month to pray focused prayer for the children of the local church community.
Our Mission ...We are committed to the spiritual preservation of this generation and beyond and the spiritual restoration of previous generations.
Our Need ...Committed women who will join together on the Second Saturday of each month and pray focused prayer for their children and the children of the local church and community.
Zion Apostolic Daughters of Zion meet the Fourth Saturday of every month at 9:00 AM. We get together to pray for all of our children, husbands, and love ones. We believe in the power of prayer and have already seen results! All ladies are invited..