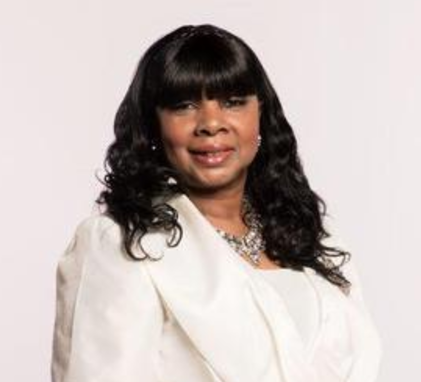 Chief Apostle Patricia Ann Pinckney is the daughter of the late Levi Wilson and Lillie (Wade) Johnson. She is a graduate of Charles A. Brown High School of Charleston, SC. She received her certificate from Southeastern Business College and Rice Business College. She also attended the College of Charleston. Chief Apostle Pinckney received her Bachelor Degree in Theology in 1993 from the Richmond School of Divinity. She is the lovely and devoted wife to Deacon James F. Pinckney, Sr. of 45 years. They were blessed with five children, Eric (whom proceeded in death), Apostle James F. Pinckney Jr., Evangelist Tiffany (Terrill) Nelson, Minister Pakeena Pinckney and Jalesa Pinckney. Thirteen grandchildren and two great-grands
Since 1977, Chief Apostle Patricia Pinckney has been dedicated to helping those who have lost their way. Once God kept his promise and healed her oldest son, Eric she began to run a race that would change the lives of anyone who came into contact with her and the anointing God had placed on her. She is now in her 36th year of preaching the gospel and her determination has not wavered.
After the healing of her son, Apostle Pinckney received the gift of the Holy Spirit and in 1977, under the leadership of Bishop Robert Parks at Saint Joseph Church of Zion. After years of faithful service as an Usher, Sunday school teacher, and an Assistant Pastor she was called to Pastor her own church. In 1984, she became the Pastor of New Hope Pentecostal Holiness Church #2. Soon the building she had been blessed with became too small to hold the people of God. Chief Apostle Pinckney again heard the voice of God telling her it was time to move.
She then took her congregation to 513 Arlington Drive, in West Ashley, Charleston, SC where God changed the name of the church to Faith Tabernacle Church of Zion. Then in 2003, God blessed her yet again with her present location at 5667 Dorchester Road, North Charleston, SC.
In 2005 after many months of seeking the face of God, Pastor Pinckney was elevated to the office of an Apostle. As the Presiding Prelate of Zion Apostolic Christian Fellowship, headquarters to Faith Tabernacle Church of Zion, Inc. in North Charleston, SC, Kingdom Prayer Tabernacle, North Charleston, SC. The blessings of God then moved the fellowship across state lines into Florida where, Kingdom Harvest Christian Fellowship, Jacksonville, FL, New Beginning Life Deliverance Ministry and Greater Faith Christian Fellowship, Ft. Myers have come under the leadership of this powerful woman of God. As God continue to add to the church daily Shiloh Global Ministries in Norcross, GA was established under this anointed Women of God Chief Apostle Patricia A. Pinckney has become a beacon of light and mentor to many of those who live in the surrounding areas.
She is a woman full of love, with a special place in her heart for young men and women who have lost their way. She has dedicated her life to living a life of purity, generosity, and holiness. Though many have begun to preach a new doctrine centered on prosperity, she has never wavered in her teaching of Holiness. She teaches all who will hear that if they just seek the kingdom of God, that all things will be added unto them. Under the leadership of Chief Apostle Patricia A.
Pinckney all those who are under Zion Apostolic Christian Fellowship have opened their doors to daily prayer sessions, food and clothing banks and assistance for those who are in need of advice about obtaining a GED or college education. Chief Apostle Patricia Pinckney has always believed that with an education and manners you can open any door that is placed before you. She believes that even if the Adversary takes all of your worldly possessions, if you still have your mind and you pray and God to guide your foot steps you can overcome any situation.
Chief Apostle Patricia Pinckney has ministered to those who have been incarcerated inside the Charleston County Detention Center. Not only has she given them a word of encouragement, she has followed their cases and has given them assistance when they are released. Because she is seen as a positive influence in the community, many community leaders come to her for advice and services to help those in need. In 1994 she was honored with the Channel 5 Hall of Fame Award. She is the Co-President of the International Evangelistic Association of Tallahassee, Florida. In 1998 Apostle and Deacon James F. Pinckney Sr. were profiled in the High Profile Section of the Post and Courier.
Apostle Patricia A. Pinckney also received the Good Shepherd Award and is a current member of the National Association of Forensic Council. In April 2001 Apostle Patricia A. Pinckney was honored by Heaven 1390 Radio Station with the Heavens Angel of the month. In January 2011 she was honored by Mayor Keith Summey with the "Keys to the City".
One of Apostle Pinckney's favorite scriptures is in Matthew 25:36 "Naked and ye clothed me: I was sick, and ye visited me: I was in prison, and ye came unto me", has been not only a mantra but a motto that she tries to live by daily. Ever since the revival in 1977 when she received the gift of the Holy Spirit Chief Apostle Pinckney has kept her promise to God. And even though Eric has gone home to be with the Father, she continues to keep her word, saying "Though they slay me yet will I trust Him."